Basic dc accuracy 0.5%
CAT III 600 V safety rated
Diode and continuity test with buzzer
Small lightweight design for one-handed use
Rugged, durable design
Automatic shutdown
Battery is easy to replace
Fluke 101-600 V Basic digital multimeter has a distinct and small lightweight design which makes it ideal for one-handed use. It's rugged and durable design gives it better longevity as compared to other digital multimeters available in the marketplace. This digital multimeter from Fluke conforms to CAT III 600 V standards and is used mostly for diode and continuity testing purposes. It is lightweight, weighs 160 grams, and is powered by 2 AAA batteries. This multimeter has a protection rating of IP 40 as per IEC 60529.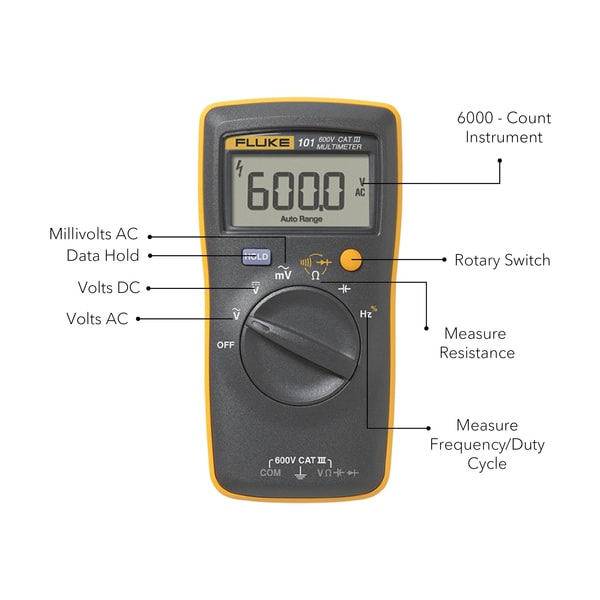 Product Attributes:
Basic dc accuracy 0.5 percentage
CAT III 600 V safety rated
Diode and continuity test with buzzer
Small lightweight design for one-handed use
Rugged, durable design
Automatic shutdown
Battery is easy to replace
GENERAL
AC Voltage Range:  
600.0 mV, 6.000 V, 60.00 V, 600.0 V
CAT Rating: 
CAT III 600 V
DC Voltage Range:  
6.000 V, 60.00 V, 600.0 V
Dimensions:   
130x65x27 mm
Maximum AC Voltage:  
600 V
Maximum DC Voltage:  
600 V
Ohm Range:   
40.00 M ohm
Operating temperature:   
0 degree C to 40 degree Celsius
Protection Rating:  
IP 40 per IEC 60529
Storage Temperature:  
-30 degree C to 60 degree Celsius
Tags:-
fluke 101 digital multimeter,
fluke 101 digital multimeter price,
fluke 101 digital multimeter user manual,
fluke 101 digital multimeter review,
fluke 101 digital multimeter datasheet,
fluke 101 digital multimeter price gsm bazaar,
fluke 101 digital multimeter price in india,
harga fluke 101 digital multimeter,
fluke 101 pocket digital multimeter,
fluke 101 basic digital multimeter pocket portable meter equipment industrial,