Validity : 1 Year
Download Now : https://updateborneo.com/
HOW TO INSTALL TUTORIAL (BAHASA INDONESIA WITH ENGLISH TEXT)
Video Link : https://youtu.be/S2Qm3oFIVvU
Validity : 1 Year
Download Now : https://updateborneo.com/
HOW TO INSTALL TUTORIAL (BAHASA INDONESIA WITH ENGLISH TEXT)
Video Link : https://youtu.be/S2Qm3oFIVvU
Borneo Schematics Hardware Tool 2 User Activation Code
l Code is a must have tool for anyone dealing with phone hardware repair.
This online hardware scheme viewer allows you to use:
PCB bitmaps
hardware repair solutions
official PDF schematics
One user account can be used on 2 PCs simultaneously. Access valid for 1 year.
To extend your access for one more year, please use Double User Reactivation.
Cannot be extended with Single User Reactivation.
After successful transaction we will send your activation code on your email address.
I've got the activation code. What shall I do next?
Download the latest setup (regularly updated)
Watch Borneo Schematics review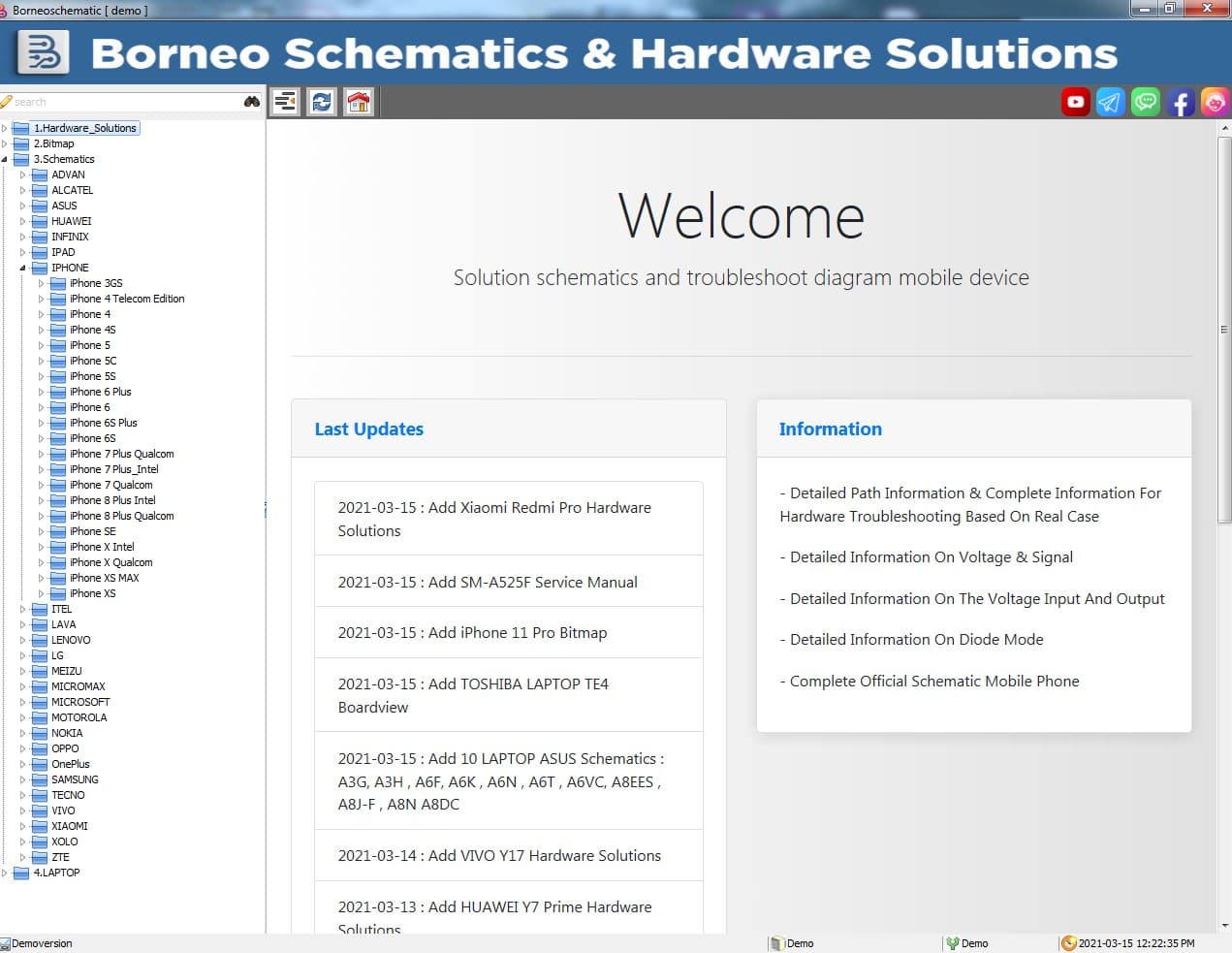 Created by the Borneo Flasher Indonesia team, which has experience in the field of cellphone technicians and cellphone technician training since 2001.
Very detailed and easy to apply in a daily repair of the damaged smartphones.
How to buy Borneo Schematics:
Buy this product at our website
As soon as your order is completed, you will receive Activation code to your email.
Install the setup to Drive C
Start .exe file from C/Borneoschematic
Press Register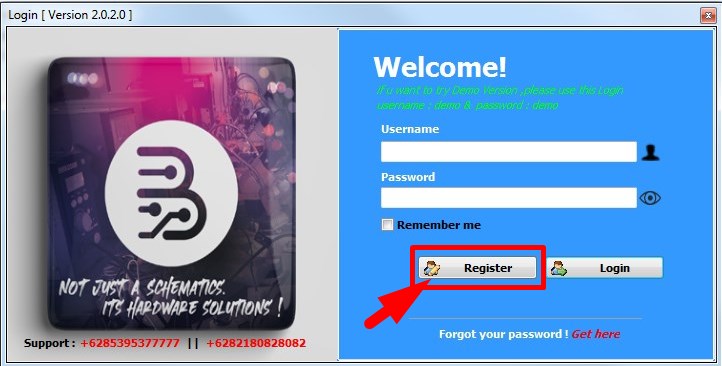 Copy-paste the activation code sent to your email.
Package Content:
Activation Code for Borneo Schematics
The product is digital – no packaging!
When we confirm your payment and process your order, we will send your activation code and detailed instructions to your email.
DO NOT EXPECT ANY CARD SHIPPED to you. The plastic card on the picture is only for design purposes.
2021-01-12

 : Add SM-A515 – Samsung Galaxy A51 Hardware Solutions

2021-01-12

 : Add Huawei RY10 Bitmap

2021-01-12

 : Add 16 Type LG Schematics (E425,E435,E445,E612,E615,E960,P500 P500h,P698 , P705,P715,P768,P880,P925,P940,P970,T375 )

2021-01-12

 : Add 100 LAPTOP Schematics (ACER , ASUS , AXIOO , DELL , LENOVO , SONY VAIO )

2021-01-11

 : Add OPPO Realme C2 Hardware Solutions

2021-01-11

 : Add Huawei P20 Lite Bitmap

2021-01-11

 : Add 16 LG Schematics (A395 , D100F , D120 , D175F , D285F , D295 , D385 , D405 , D410 , D618 , D686 , D805 , D821 , D855 , E400 , E400F)

2021-01-11

 : Add 100 LAPTOP Schematics (ACER , ASUS , AXIOO , DELL , HP-COMPAQ , LENOVO , SAMSUNG , SONY VAIO , TOSHIBA)

2021-01-09

 : Add OPPO F11 Hardware Solutions

2021-01-09

 : Add 100 LAPTOP Schematics (ACER, ASUS , AXIOO , DELL , HP COMPAQ , LENOVO , SAMSUNG , TOSHIBA)

2021-01-09

 : Add Motorola Moto Z2 Play XT1710 Service Manual

2021-01-09

 : Add Motorola Moto Z3X Play XT1929 Schematics

2021-01-08

 : Add Huawei Y9 2019 Hardware Solutions

2021-01-08

 : Add Vivo Y9S Bitmap

2021-01-08

 : Add 100 LAPTOP Schematics (ACER, ASUS, AXIOO,DELL ,HP-COMPAQ , LENOVO , SONY VAIO , TOSHIBA)

2021-01-08

 : Add Micromax Q380 Schematics

2021-01-07

 : Add SM-A705 Galaxy A70 Hardware Solutions

2021-01-07

 : Add Various LAPTOP Schematics

2021-01-07

 : Add Vivo Y55 Bitmap

2021-01-07

 : Add Huawei Honor View 10 Schematics

2021-01-06

 : Add HUAWEI NOVA 2 LITE Hardware Solutions

2021-01-06

 : Add VIVO Y97 Bitmap

2021-01-06

 : Add OPPO F9 Pro Schematics

2021-01-05

 : Add Xiaomi Mi Play Hardware Solutions

2021-01-05

 : Add iPhone 12 Pro-RF Bitmap

2021-01-05

 : Add Huawei P30 Pro Schematics

2021-01-04

 : Add OPPO Realme 2 Pro Hardware Solutions

2021-01-04

 : Add Huawei Nova 7 Bitmap

2021-01-04

 : Add ASUS ZB601KL Schematics

2021-01-03

 : Add Huawei Y7 2019 Hardware Solutions

2021-01-02

 : Add OPPO F3 Hardware Solutions

2021-01-02

 : Add Huawei Mate 30-X Bitmap

2021-01-02

 : Add SM-P585Y Schematic

2021-01-01

 : Add Xiaomi Mi 6X (Mi A2) Hardware Solutions

2021-01-01

 : Add Huawei Magic 2 Bitmap

2021-01-01

 : Add SM-T595 Schematics

2020-12-31

 : Add Huawei Honor 8A Hardware Solutions

2020-12-31

 : Add SM-N950F Bitmap

2020-12-31

 : Add Asus X005 Pegasus Service Manual

2020-12-31

 : Add LAVA Spark i7 Schematics

2020-12-30

 : Add OPPO A1K Hardware Solutions

2020-12-30

 : Add VIVO Y93 Bitmap

2020-12-30

 : Add Huawei Mate 10 Lite Schematics

2020-12-30

 : Add LG H780DS (G6) Schematics

2020-12-29

 : Add Huawei P9 Lite Hardware Solutions

2020-12-29

 : Add Xiaomi Redmi Note 3 Bitmap

2020-12-29

 : Add Huawei C8812 Schematics

2020-12-29

 : Add OPPO R5 R8106 Schematics

2020-12-28

 : Add Xiaomi Mi A1 Hardware Solutions

2020-12-28

 : Add SM-P555 Bitmap

2020-12-28

 : Add LAVA A55 Schematics

2020-12-28

 : Add SM-A405F Service Manual

2020-12-27

 : Add OPPO F1s Hardware Solutions

2020-12-26

 : Add Huawei P10 Plus Hardware Solutions

2020-12-26

 : Add iPhone 12 Pro-AP Bitmap

2020-12-26

 : Add LG M320K Schematics

2020-12-26

 : Add Micromax Q301 Schematics

2020-12-25

 : Add Huawei Honor 4C Hardware Solutions

2020-12-25

 : Add iPad Pro 9.7-4G Bitmap

2020-12-25

 : Add Huawei Nova 7 Pro Schematics

2020-12-25

 : Add SM-B312E Service Manual

2020-12-24

 : Add Huawei P9 Plus Hardware Solutions

2020-12-24

 : Add LAVA X41 Schematics

2020-12-24

 : Add iPad Mini 4 Bitmap

2020-12-24

 : Add OPPO R1X Schematics

2020-12-23

 : Add OPPO A3S CPH 1803 Hardware Solutions

2020-12-23

 : Add Xiaomi MI-8PM Bitmap

2020-12-23

 : Add Motorola Nexus 6 XT1100 Schematics

2020-12-23

 : Add Huawei G620 Schematics

2020-12-22

 : Add Huawei Honor 4X Hardware Solutions

2020-12-22

 : Add IPad Mini 3 Bitmap

2020-12-22

 : Add SM-B310E Service Manual

2020-12-22

 : Add Micromax A69 Schematics

2020-12-21

 : Add Huawei P20 Hardware Solutions

2020-12-21

 : Add iPad Pro 12.9 Wifi Bitmap

2020-12-21

 : Add Huawei Mate 9 Lite Schematics

2020-12-21

 : Add LG X145 Schematics

2020-12-20

 : Add Xiaomi Redmi 5 Plus Hardware Solutions

2020-12-19

 : Add Huawei P8 Lite Hardware Solutions

2020-12-19

 : Add LG X240K Schematics

2020-12-19

 : Add Lava ARC One Plus Schematics

2020-12-18

 : Add Huawei NOVA 2 Plus Hardware Solutions

2020-12-18

 : Add Huawei P40 Bitmap

2020-12-18

 : Add LG H540 Schematics

2020-12-18

 : Add Asus Z170 CG Service Manual

2020-12-17

 : Add Huawei Honor 7A Hardware Solutions

2020-12-17

 : Add iPhone 12 Pro Bitmap

2020-12-17

 : Add iPhone XR Schematics

2020-12-17

 : Add Huawei C8816D Schematics

2020-12-16

 : Add OPPO Realme 2 Hardware Solutions

2020-12-16

 : Add Lenovo A328 Schematics

2020-12-16

 : Add LAVA IRIS 405 Plus Schematics

2020-12-16

 : Add iPad 4 Bitmap

2020-12-15

 : Add Huawei NOVA 3i Hardware Solutions

2020-12-15

 : Add Microsoft Lumia 532 RM 1031 Schematics

2020-12-15

 : Add Huawei GR3 2017 Schematics

2020-12-15

 : Add iPad 3 Bitmap

2020-12-14

 : Add Huawei Honor 7X Hardware Solutions

2020-12-14

 : Add SM-A605F Bitmap

2020-12-14

 : Add Huawei Honor 9 Lite Schematics

2020-12-14

 : Add ASUS Z300CG Service Manual

2020-12-13

 : Add HUAWEI Honor 8x Hardware Solutions

2020-12-12

 : Add VIVO X3S Hardware Solutions

2020-12-12

 : Add iPhone 11 Pro Max Schematics

2020-12-12

 : Add Lava Pro 30 Schematics

2020-12-11

 : Add VIVO V15 Pro Hardware Solutions

2020-12-11

 : Add Huawei P40 Pro Schematics

2020-12-11

 : Add SM-G780F Service Manual

2020-12-11

 : Add iPad Mini 1 & iPad Mini 2 Bitmap

2020-12-10

 : Add VIVO S1 Pro Hardware Solutions

2020-12-10

 : Add LG M400DK Schematics

2020-12-10

 : Add XOLO ERA 2 Schematics

2020-12-09

 : Add VIVO Y91 Y93 Y95 Qualcomm Hardware Solutions

2020-12-09

 : Add VIVO V15 Bitmap

2020-12-09

 : Add SM-A750FN Service Manual

2020-12-09

 : Add ZTE Blade G V815W Schematics

2020-12-08

 : Add VIVO Y15 Hardware Solutions

2020-12-08

 : Add LG K520DY Schematics

2020-12-08

 : Add Xiaomi Redmi 1s 4G Schematics

2020-12-07

 : Add VIVO Y83 Hardware Solutions

2020-12-07

 : Add Huawei Honor 7C Schematics

2020-12-07

 : Add IPhone 11 Pro Schematics

2020-12-06

 : Add VIVO Y30 Hardware Solutions

2020-12-05

 : Add VIVO Y35 Hardware Solutions

2020-12-05

 : Add Huawei P8 Lite (2015) Schematics

2020-12-05

 : Add SM-A6060 Service Manual

2020-12-04

 : Add VIVO Y91C Hardware Solutions

2020-12-04

 : Add Motorola Razr 5G XT2071-X Schematics

2020-12-04

 : Add LAVA A50 Schematics

2020-12-03

 : Add VIVO Y55 PD1613AM Hardware Solutions

2020-12-03

 : Add LG M700DSK (Q6) Schematics

2020-12-03

 : Add Xolo Era 1X Schematics

2020-12-02

 : Add VIVO V19 Hardware Solutions

2020-12-02

 : Add SM-F916B Service Manual

2020-12-02

 : Add Huawei Nova Lite Schematics

2020-12-01

 : Add VIVO Y28 Hardware Solutions

2020-12-01

 : Add LG H845 G5 SE Schematics

2020-12-01

 : Add Motorola Moto E4 XT1765 Schematics

2020-11-30

 : Add VIVO Y12 Hardware Solutions

2020-11-30

 : Add Meizu M5 Note Schematics

2020-11-30

 : Add Huawei Nova 5 Schematics

2020-11-29

 : Add VIVO Y22 Hardware Solutions

2020-11-28

 : Add VIVO V11 Hardware Solutions

2020-11-28

 : Add SM-Z300H Service Manual

2020-11-27

 : Add VIVO V7 Plus Hardware Solutions

2020-11-27

 : Add LG X160 Schematics

2020-11-27

 : Add Oppo F7 Youth Schematics

2020-11-26

 : Add VIVO Y55 – Y55s Hardware Solutions

2020-11-26

 : Add Huawei Honor 4C Schematics

2020-11-26

 : Add SM-T280 Schematics

2020-11-25

 : Add VIVO V11 Pro Hardware Solutions

2020-11-25

 : Add Motorola Moto G5s XT1792 Schematics

2020-11-25

 : Add LG H818P G4 Dual Schematics

2020-11-24

 : Add VIVO Y69 Hardware Solutions

2020-11-24

 : Add Huawei Honor 4X Schematics

2020-11-24

 : Add SM-Z130H Service Manual

2020-11-23

 : Add VIVO Y65 Hardware Solutions

2020-11-23

 : Add Motorola G 5G Kiev XT2113 Schematics

2020-11-23

 : Add SM-Z200F Schematics

2020-11-22

 : Add Xiaomi Redmi 4X Hardware Solutions

2020-11-21

 : Add VIVO V5 – V5s Hardware Solutions

2020-11-21

 : Add Huawei Honor 6c Pro Schematics

2020-11-21

 : Add LG X240K Service Manual

2020-11-20

 : Add VIVO V5 Plus Hardware Solutions

2020-11-20

 : Add SM-N920F Schematics

2020-11-20

 : Add LG H540 Service Manual

2020-11-19

 : Add VIVO Y91 Hardware Solutions

2020-11-19

 : Add Lenovo A526 Schematics

2020-11-19

 : Add SM-J210F Service Manual

2020-11-18

 : Add VIVO Y81 Hardware Solutions

2020-11-18

 : Add Meizu M2 Note Schematics

2020-11-18

 : Add SM-A516U Service Manual

2020-11-17

 : Add VIVO V9 Hardware Solutions

2020-11-17

 : Add iPAD 5 Schematics

2020-11-17

 : Add SM-A307FN.GN Schematics

2020-11-16

 : Add VIVO Y51 Hardware Solutions

2020-11-16

 : Add Huawei Honor 7a Pro Schematics

2020-11-16

 : Add Motorola Moto G4 XT1621 Schematics

2020-11-15

 : Add VIVO Y71 Hardware Solutions

2020-11-14

 : Add OPPO A5s Hardware Solutions

2020-11-14

 : Add Motorola G9 Power XT2091-X Schematics

2020-11-14

 : Add Xiaomi Redmi K30 5G Schematics

2020-11-13

 : Add VIVO V7 Hardware Solutions

2020-11-17

 : Add Oppo A3s Hardware Solutions (Network & Wifi Bluetooth GPS)

2020-11-13

 : Add Huawei Y6 Prime Schematics

2020-11-13

 : Add Motorola Moto E6 Play XT2029 Schematics

2020-11-12

 : Add VIVO Y53 Hardware Solutions

2020-11-12

 : Add LAVA Z92 Schematics

2020-11-12

 : Add Xiaomi Mi A2 Lite Schematics

2020-11-12

 : Add Huawei Honor 7a Schematics

2020-11-11

 : Add SM-J510 – Galaxy J5 (2016) Hardware Solutions

2020-11-11

 : Add Huawei P9 Lite Schematics

2020-11-11

 : Add Motorola Moto E7 Plus XT2081 Schematics

2020-11-11

 : Add SM-M115F Service Manual

2020-11-10

 : Add SM-J610 – Galaxy J6 Plus Hardware Solutions

2020-11-10

 : Add Xiaomi Mi 10 Supreme Schematics

2020-11-10

 : Add OPPO K1 Schematics

2020-11-10

 : Add SM-T387 Schematics

2020-11-09

 : Add SM-J710 – Galaxy J7 (2016) Hardware Solutions

2020-11-09

 : Add LAVA Z93 Schematics

2020-11-09

 : Add Motorola Moto E6 Plus Schematics

2020-11-08

 : Add 11 Types InFOCUS Schematics

2020-11-07

 : Add SM-G930 – Galaxy S7 Hardware Solutions

2020-11-07

 : Add Huawei Honor 7x Schematics

2020-11-07

 : Add Motorola Moto G6 Play Schematics

2020-11-07

 : Add SM-J730 F Schematics

2020-11-06

 : Add SM-J810 – Galaxy J8 Hardware Solutions

2020-11-06

 : Add HUAWEI Nova 5 Pro Schematics

2020-11-06

 : Add OPPO A29s Schematics

2020-11-06

 : Add SM-P610 Service Manual

2020-11-05

 : Add GT-i9060 – Galaxy Grand Neo Hardware Solutions

2020-11-05

 : Add SM-J510 H Schematics

2020-11-04

 : Add SM-G530 – Galaxy Grand Prime Hardware Solutions

2020-11-04

 : Add LAVA Z81 3GB Schematics

2020-11-04

 : Add LG D337 (L Prime) Schematics

2020-11-04

 : Add SM-A605 GN Service Manual

2020-11-03

 : Add SM-G925 – Galaxy S6 Edge Hardware Solutions

2020-11-03

 : Add SM-T835 Schematics

2020-11-03

 : Add LAVA Z62 Schematics

2020-11-02

 : Add SM-N910 – Galaxy Note 4 Hardware Solutions

2020-11-02

 : Add 40 Types ADVAN Schematics

2020-11-01

 : Add OPPO Realme C1 Schematics

2020-11-01

 : Add SM-N976V Service Manual

2020-11-01

 : Add Motorola Moto G 5G XT2075 Schematics

2020-11-01

 : Add LAVA Z60s Schematics

2020-10-31

 : Add SM-G850 – Galaxy Alpha Hardware Solutions

2020-10-31

 : Add LAVA Z53 Schematics

2020-10-31

 : Add Motorola One Fusion XT2073 Schematics

2020-10-31

 : Add SM-A910F Service Manual

2020-10-30

 : Add SM-G900 – Galaxy S5 Hardware Solutions

2020-10-30

 : Add LG VS980 (G2 Verizon) Schematics

2020-10-30

 : Add SM-J730GM Schematics

2020-10-30

 : Add SM-T810 Service Manual

2020-10-29

 : Add SM-A510 – Galaxy A5 (2016) Hardware Solutions

2020-10-29

 : Add LG D690 G3 Stylus Schematics

2020-10-29

 : Add Motorola Moto E4 XT1760 Schematics

2020-10-29

 : Add SM-A707F Service Manual

2020-10-28

 : Add SM-G950 – Galaxy S8 Hardware Solutions

2020-10-28

 : Add LAVA Z52 Pro Schematics

2020-10-28

 : Add Motorola Moto E4 Plus XT1770 Schematics

2020-10-28

 : Add SM-T700 Galaxy Tab S 8.4 Service Manual

2020-10-27

 : Add SM-G965 – Galaxy S9+ Hardware Solutions

2020-10-27

 : Add VIVO Y75N , Y91N and Y91S Schematics

2020-10-27

 : Add SM-T530 Service Manual

2020-10-27

 : Add Motorola Moto E3 (POWER) XT1700-XT1706 Schematics

2020-10-26

 : Add SM-J100 – Galaxy J1 Hardware Solutions

2020-10-26

 : Add LAVA Z51 Schematics

2020-10-26

 : Add OPPO A73s Schematics

2020-10-26

 : Add Motorola Moto E XT2052-X Schematics

2020-10-26

 : Add SM-P601 – Galaxy Note 10.1 Service Manual

2020-10-25

 : Add 50 Types ADVAN Schematics

2020-10-24

 : Add SM-N920 – Galaxy Note 5 Hardware Solutions

2020-10-24

 : Add Motorola Moto Edge Plus Schematics

2020-10-24

 : Add SM-G550F Service Manual

2020-10-23

 : Add SM-J530 – Galaxy J5 (2017) Hardware Solutions

2020-10-23

 : Add SM-N976N Schematics

2020-10-23

 : Add LG L80 Schematics

2020-10-23

 : Add SM-T976B – Galaxy Tab S7 Plus Service Manual

2020-10-22

 : Add SM-J330 – Galaxy J3 (2017) Hardware Solutions

2020-10-22

 : Add Motorola Moto C XT1756 Schematics

2020-10-22

 : Add LAVA Z40 Schematics

2020-10-22

 : Add SM-T875 Galaxy Tab S7 11.0 Service Manual

2020-10-21

 : Add SM-A920 – Galaxy A9 2018 Hardware Solutions

2020-10-21

 : Add 50 Types ADVAN Schematics

2020-10-21

 : Add Motorola Moto C XT1758 Schematics

2020-10-21

 : Add SM-T860 Service Manual

2020-10-20

 : Add SM-C710 – Galaxy C7 (2017) Hardware Solutions

2020-10-20

 : Add Motorola Moto G7 Play XT1952-2 Schematics

2020-10-20

 : Add LAVA Z25 Schematics

2020-10-20

 : Add SM-C9000 Service Manual

2020-10-19

 : Add SM-G935 – Galaxy S7 Edge Hardware Solutions

2020-10-19

 : Add Motorola Moto G9 Plus XT2087 Schematics

2020-10-19

 : Add SM-A505G Schematics

2020-10-19

 : Add SM-S737TL Service Manual

2020-10-18

 : Add 11 Types MICROSOFT Lumia Schematic

2020-10-18

 : Add Xiaomi Mi2A , Mi 4s , Mi 9 and Mi 9T Pro Schematics

2020-10-17

 : Add SM-J320 – Galaxy J3 (2016) Hardware Solutions

2020-10-17

 : Add 14 Types XOLO Shcematics

2020-10-17

 : Add SM-J610G Schematics

2020-10-17

 : Add Huawei Nova 2 Schematics

2020-10-17

 : Add SM-T320 Service Manual

2020-10-16

 : Add SM-A720 – Galaxy A7 (2017) Hardware Solutions

2020-10-16

 : Add 27 Types INFINIX Schematics

2020-10-16

 : Add Oppo Find 7a Schematics

2020-10-16

 : Add SM-A260F Service Manual

2020-10-15

 : Add SM-J600 – Galaxy J6 Hardware Solutions

2020-10-15

 : Add Xiaomi BLACKSHARK 2 Schematics

2020-10-15

 : Add Xiaomi Redmi 1 Schematics

2020-10-15

 : Add 20 Types TECNO Schematics

2020-10-15

 : Add SM-G5510 Service Manual

2020-10-14

 : Add SM-A507 – Galaxy A50s Hardware Solutions

2020-10-14

 : Add SM-P905 Service Manuals

2020-10-14

 : Add Huawei Honor 9 Play Schematics

2020-10-14

 : Add Xiaomi Redmi K20 Schematics

2020-10-13

 : Add SM-J415 – Galaxy J4 Plus Hardware Solutions

2020-10-13

 : Add SM-C7010 Service Manual

2020-10-13

 : Add 9 Types ALCATEL Schematics

2020-10-13

 : Add 25 Types TECNO Schematics

2020-10-12

 : Add SM-G610 – Galaxy J7 Prime Hardware Solutions

2020-10-12

 : Add SM-G973F Schematics

2020-10-12

 : Add Huawei Honor Magic Schematics

2020-10-11

 : Add Xiaomi Mi Note Pro , Redmi 2x , Redmi 5 (Rosy) and Redmi Pro Schematics

2020-10-11

 : Add 100 Types TECNO Schematics

2020-10-10

 : Add SM-J500 – Galaxy J5 Hardware Solutions

2020-10-10

 : Add OPPO A51F Schematics

2020-10-10

 : Add 80 Types ITEL Schematics

2020-10-09

 : Add SM-J250 – Galaxy J2 Pro Hardware Solutions

2020-10-09

 : Add SM-J320F Schematics and Service Manual

2020-10-09

 : Add 50 Types ITEL Schematics

2020-10-08

 : Add SM-J730 – Galaxy J7 Pro Hardware Solutions

2020-10-08

 : Add SM-N960F Schematics

2020-10-08

 : Add 44 Types ZTE Schematics

2020-10-07

 : Add SM-J200 – Galaxy J2 (2017) Hardware Solutions

2020-10-07

 : Add Some LG Schematics

2020-10-06

 : Add SM-J400 Samsung Galaxy J4 Hardware Solutions

2020-10-06

 : Add SM-G570F Schematics

2020-10-06

 : Add SM-j3119 Service Manuals

2020-10-06

 : Add SM-A300H Schematics

2020-10-05

 : Add SM-J120 – Galaxy J1 2016 Hardware Solutions

2020-10-05

 : Add Huawei Ascend G730 Schematics

2020-10-04

 : 33 Types of INFINIX Phones Schematics

2020-10-04

 : Add Xiaomi Mi 2 Schematics

2020-10-04

 : Add Xiaomi Mi 9T Schematics

2020-10-04

 : Add Xiaomi Mi 9 Lite Schematics

2020-10-04

 : Add Xiaomi Redmi 3 (Ido) Schematics

2020-10-03

 : Add SM-G570 – Samsung J5 Prime Hardware Solutions

2020-10-03

 : Add SM-G615F Service Manuals

2020-10-03

 : Add SM-A205GN Schematics

2020-10-02

 : Add SM-G955 – Samsung Galaxy S8+ Hardware Solutions

2020-10-02

 : Add LAVA Z61 Pro Schematics

2020-10-02

 : Add Xiaomi Mi 8 Standart Edition Schematics

2020-10-02

 : Add OPPO R1k (R8001) Schematics

2020-10-01

 : Add SM-J110 – Galaxy J1 Ace Hardware Solutions

2020-10-01

 : Add Xiaomi Mi 10 Pro Schematics

2020-10-01

 : Add Vivo Z3 Asia Schematics

2020-09-30

 : Add SM-N950 – Galaxy Note 8 Hardware Solutions

2020-09-30

 : Add SM-J250F – Samsung Galaxy J2 Pro Schematics

2020-09-30

 : Add Xiaomi Mi 8 Explore Edition Schematics

2020-09-29

 : Add Samsung G532 – Galaxy J2 Prime Hardware Solutions

2020-09-29

 : Add SM-A207 – Galaxy A20s Service Manual

2020-09-29

 : Add Xiaomi Mi A3 Schematics

2020-09-28

 : Add Samsung A520 – Galaxy A5 (2017) Hardware Solutions

2020-09-28

 : Add SM-G8850 – Galaxy A8 Star Service Manual

2020-09-28

 : Add Xiaomi Mi Note 10 Schematics

2020-09-27

 : Add Xiaomi Mi 8 Lite Schematics

2020-09-27

 : Add Some IPAD Schematics

2020-09-27

 : Add Samsung A730 – Galaxy A8+ (2018) Hardware Solutions

2020-09-26

 : Add SM-N915F.G – Galaxy Note Edge Service Manual

2020-09-26

 : Add OnePlus 3T Schematics

2020-09-26

 : Add Samsung A530 – Galaxy A8 (2018) Hardware Solutions

2020-09-25

 : Add SM-T865 Samsung Galaxy Tab S6 Schematics

2020-09-25

 : Add Xiaomi Mi 6x Schematics

2020-09-25

 : Add Samsung A320 – Galaxy A3 (2017) Hardware Solutions

2020-09-24

 : Add Meizu MX5 & Meizu MX6 Schematics

2020-09-24

 : Add Samsung A605 – Galaxy A6+ Hardware Solutions

2020-09-23

 : Add SM-J106M Samsung Galaxy J1 Mini Prime & Xiaomi Redmi Y 3 Schematics

2020-09-23

 : Add Samsung A600 – Galaxy A6 Hardware Solutions

2020-09-22

 : Add Meizu U10 Schematics

2020-09-22

 : Add Samsung A300 – Galaxy A3 Hardware Solutions

2020-09-21

 : Add Samsung M205 – Galaxy M20 Hardware Solutions

2020-09-20

 : Add Samsung A750 – Galaxy A7 Hardware Solutions

2020-09-19

 : Add Samsung A505 – Galaxy A50 Hardware Solutions

2020-09-18

 : Add Samsung A305 – Galaxy A30 Hardware Solutions

2020-09-17

 : Add Samsung A205 – Galaxy A20 Hardware Solutions

2020-09-16

 : Add Samsung A105 – Galaxy A10 Hardware Solutions

2020-09-15

 : Add Oppo F9 Hardware Solutions

2020-09-14

 : Add Oppo F7 Hardware Solutions

2020-09-13

 : Add OPPO F5 Hardware Solutions

2020-09-13

 : SCHEMATICS VIVO Y71 ASIA, Y71S, Y81 ARABIAN & Y81 VIETNAM

2020-09-13

 : ADD SCHEMATICS OPPO A7N , A7Y & R15 LITE

2020-09-12

 : ADD OPPO A3S CPH 1853 HARDWARE SOLUTIONS

2020-09-11

 : Add Oppo Realme 3 Hardware Solutions

2020-09-10

 : Add Oppo F1 Plus Hardware Solutions

2020-09-10

 : Add Oppo F1 F Hardware Solutions

2020-09-10

 : Add Oppo A83 Hardware Solutions

2020-09-09

 : Add Oppo A71 Hardware Solutions

2020-09-09

 : Add Oppo A37 Hardware Solutions
Tags:-
borneo schematics 2 user renewal code crack,
borneo schematics 2 user renewal code free,
borneo schematics 2 user renewal code free download,
borneo schematics 2 user renewal code generator,
borneo schematics 2 user renewal code download,